Replies: 4 people have rocked the mic!
I am a 2. I am defined by my empathy for others. I am uniquely gifted at tuning in on the feelings of others. This makes me a great networker. My closeness to other people can cause me to lose track of my own personal well-being.
Posted by Your Sister @ 03/26/2002 06:59 PM EST
I also am a 2.
Posted by beloved @ 03/26/2002 07:44 PM EST
Your a ..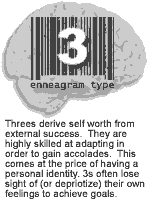 Posted by ron @ 03/27/2002 08:45 AM EST
Yeah, that's me alright! I'm a virtual chameleon. I'm so busy kissing up to my boss, I don't know who the real "me" is. If it weren't for all the success I have, I just think I were an a**. Puh-leaze.
Posted by Bill @ 03/27/2002 11:08 AM EST