[Previous entry: "I can't run a cash register!"] [Main Index] [Next entry: "A bit of a problem, there"]
10/16/2002 Entry: "Quizes and drums"
Yuoo ere-a zee Svedeesh Cheff!
Yuoo ere-a a guud cuuk, thuoogh yuoo cun't speek Ingleesh fery vell. Bork Bork Bork!

find your inner PIE @ stvlive.com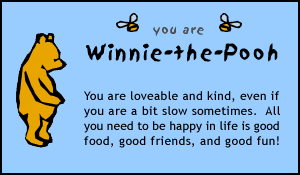 Take the 100 Acre Personality Quiz!
Thanks to Michelle for the fun.
Another Slingerland Rolling Bomber snare. I love WWII era drums. Less than 10% metal. The Slingerlands used rosewood lugs and rims, and were the only era drums that had separate top and bottom tuning. They're just beautiful dums, IMHO.
Replies: 2 people have rocked the mic!
I am Fozzie Bear, Apple Pie, and Kanga.
Posted by Your Sister @ 10/17/2002 10:36 AM EST
I am Kermit, Key Lime Pie and Kanga.
Posted by beloved @ 10/19/2002 03:09 PM EST